It is often said that great wine is made in the vineyard. After all, no amount of high-tech equipment or clever techniques in the cellar can turn inferior fruit into superior wine. Conversely, when the fruit that comes into the cellar is pristine and harvested at pitch-perfect ripeness, the wine practically makes itself, and many winemakers feel that in these cases their job is more one of getting out of the way of the wine than forcing it into some preconceived notion. This month we highlight two winemakers who, in slightly different ways, demonstrate this truth by their devotion to vineyard selection and vineyard practices, and in the process end up bottling some of the most outstanding wines of their respective regions.
Roberto Voerzio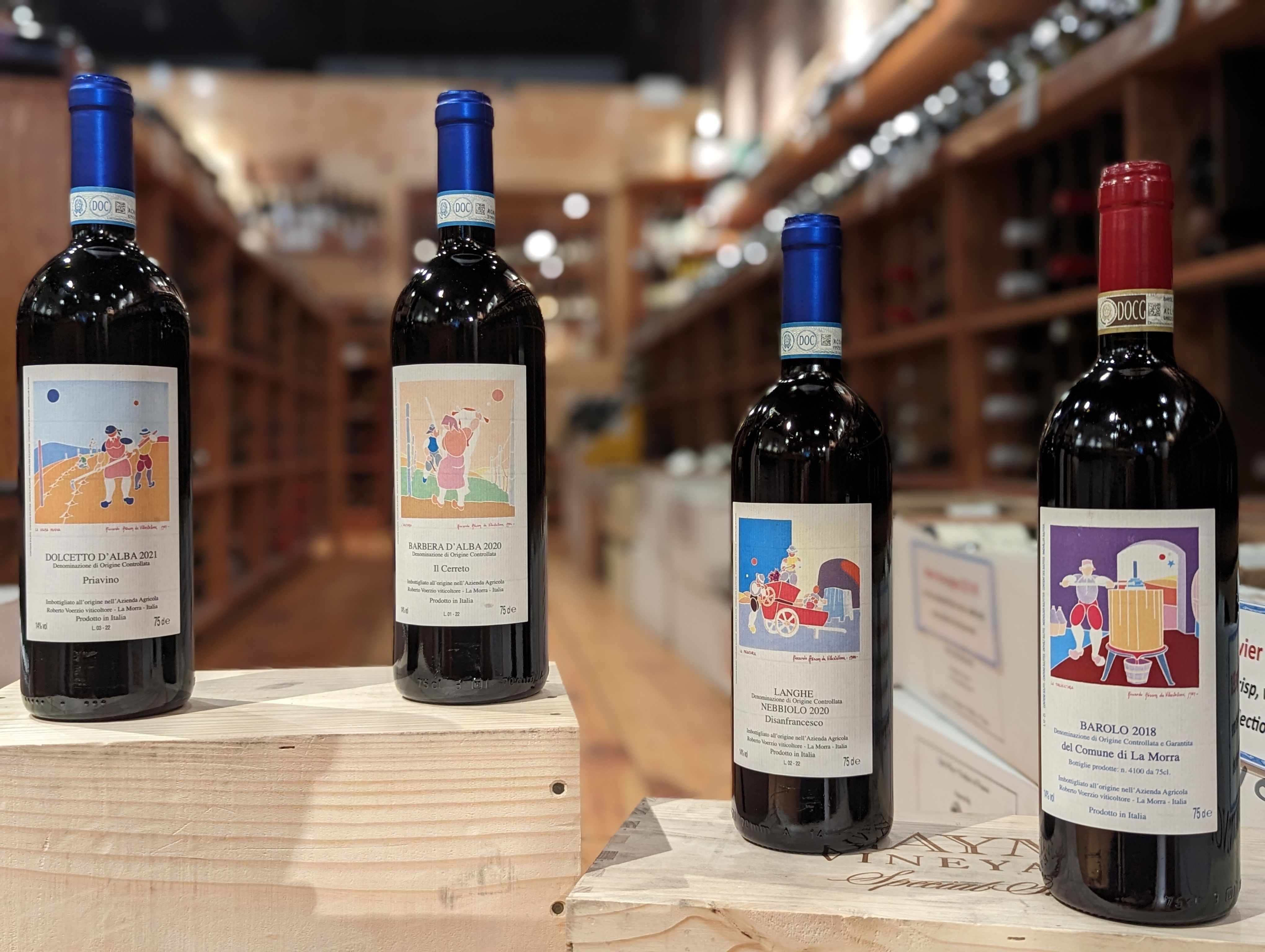 In the timeline of Barolo as a wine region, Roberto Voerzio is a relative newcomer, establishing his winery in La Morra in 1986 with a mere 5 hectares. His estate holdings are still small, only 15 hectares, though he has another 20 hectares under contract, his entire production coming from La Morra, with the exception of one vineyard in the commune of Barolo. The defining characteristic of his approach in the vineyards is his almost fanatical control over yields. Apart from rigorous and precise green harvesting, the vine density here is on the order of 8,000 to 10,000 vines per hectare, while the average for the region is around 3,200. The yields he aims for are around 500 g per vine for the Barolos (again, the average in Barolo is around 4 Kg) and about 700 g for the other varietals. These miniscule yields mean exceptionally flavorful fruit, and it also means that grape selection is done entirely in the vineyard, in fact on the vine, and not in the cellar. Combined with impeccably precise and simple cellar work, the result is wines of pure class and elegance. There is no need for narratives of rustic charm here, for these are limpid wines of unmatched purity, elegance, and transparency. The Dolcetto d'Alba Priavino 2021 ($32.00), which is a touch edgy in its extreme youth, has fine Italian plum and blueberry notes with floral filigree, and possesses a flashing and lively brilliance on the palate. A joy to drink now, it will only gain in harmony and aromatic grace. With the Langhe Nebbiolo Disanfrancesco 2020 ($50.00) the licorice, orange peel, rose water, and maraschino cherry are amalgamated and refined with the haunting clarity of a fine consommé. There is no sense of any one element standing out and distracting from the composition. The Barbera d'Alba Il Cerreto 2020 ($50.00) is more reluctant, taking more aeration to unclench its firm grip, but this only indicates its poise and depth are made for longer term development. Darker fruit is prominent here, redolent with fully integrated spice, earth, and dried herbal and floral nuances. The Barolo del Comune di La Morra 2018 ($169.00) represents the entry level Barolo for the estate, spending 12 months in tonneaux and offering a luxurious and beguiling distillation of the La Morra commune. What all of these wines possess in common is an unmistakable polish, with silky and flawless textures on the palate that exude a kind of inner luminescence, rather like the marble busts of Hiram Powers, which somehow seem to glow from within.
Ken Wright Cellars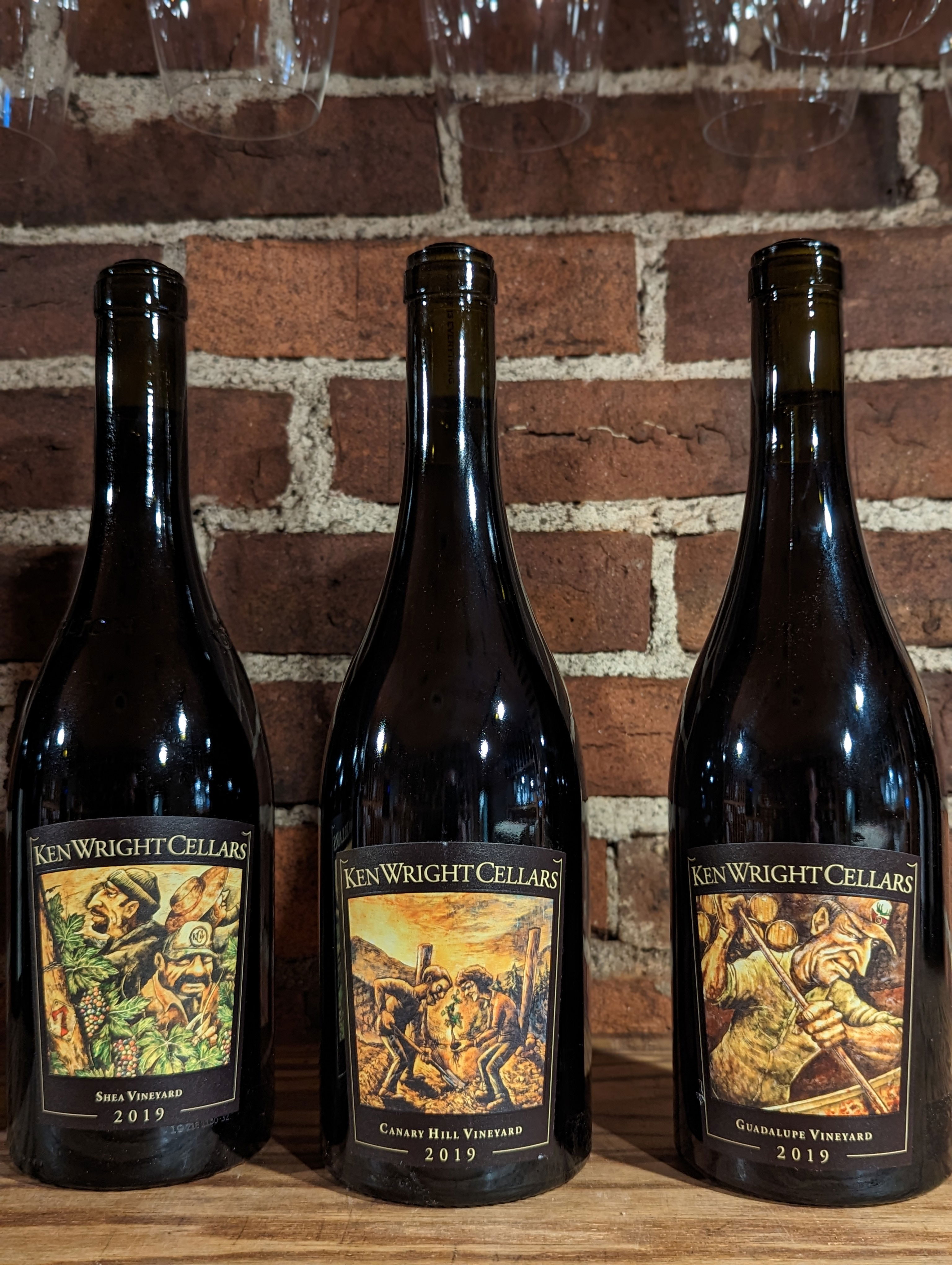 While serious vineyard management can radically elevate the quality of fruit, even more important is the vineyard's location. Factors such as soil types, exposure, and microclimate fundamentally determine the potential of a site, and when these conditions are less than optimal no amount of vineyard management can compensate. For this reason, vineyard selection is of the utmost importance in sourcing fruit, and some people just seem to have a talent for sniffing out the best fruit from the best sites. The legendary Bruno Giacosa built his entire legacy from applying this talent in Barolo and Barbaresco, and in a way, Ken Wright achieved something similar in the Willamette Valley, Oregon. Many of the oldest and best vineyards in Willamette Valley were originally planted in the 1980's, and in many cases Ken Wright was the first to realize their potential. In fact, in some cases it was his single vineyard bottlings that turned these unknown sites into prized crus. The Shea Vineyard was planted in 1989 and Ken Wright already recognized its potential in 1991. After his 1994 bottling of this vineyard earned a 94 pt rating from Robert Parker the fruit from Shea sold out every year. Likewise, Jim Stonebridge, the owner of the Guadalupe Vineyard, said "at first you could barely give the grapes away," but after Ken Wright released single vineyard bottlings from here it became one of the most sought-after sources in the Valley. By 2011, he was leasing the entire 45 acre vineyard. And he liked the Canary Hill Vineyard so much that he bought it outright in 2006. The 2019 single vineyard releases confirm his reputation. The Shea Vineyard Pinot Noir (Yamhill-Carlton) 2019 ($63.00) exhibits spiced blueberry, lavender, and violet, with touches of mint and allspice on the nose. Expansive and supremely balanced on the palate, it sports perfect acidity and outstanding textures, with no uncouth edges or corners. The Canary Hill Pinot Noir (Eola-Amity Hills) 2019 ($63.00), which is a little darker in the glass, is thrilling on the nose and palate, with sumptuous blue fruits, pungent florals, and a juicier and concentrated palate that incorporates black tea and clove notes and a deeply satisfying peacock's tail finish. And finally, the Guadalupe Vineyard Pinot Noir (Dundee Hills) 2019 ($63.00) is the darkest and most purple in color. It starts out more earthy, with loam and gamey notes lending more power to the plum, prune, blackberry, and black cherry fruits, eventually revealing streaks of toasted oak and dried fruits and leading to a long, grippy finish.